NEWS PUBLISHED IN THE NEWSPAPER EL COMERCIO
The Foundation DAF and Makro donate 6,000 euros to the Albergue
Publication date: January 28, 2017

---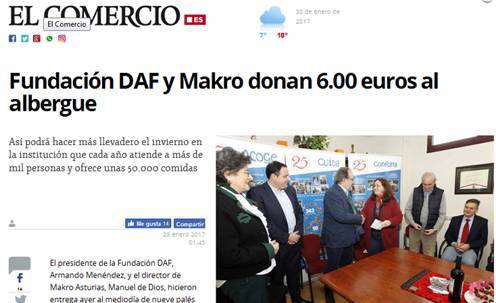 "The Foundation DAF and Makro donate 6,000 euros to the Albergue": news offered by the Spanish newspaper El Comercio on the donation event made by the Foundation DAF to the Albergue Covadonga.
The president of the Foundation DAF, Armando Menéndez, and the director of Makro Asturias, Manuel de Dios, yesterday at noon, delivered nine pallets full of staple food to the director of the Albergue Covadonga, Cristina Avella.
A total of 5,000 euros were donated by DAF and 1,000 euros were donated by Makro to make the winter months more bearable in the institution which each year deals with more than a thousand people and offers 50,000 meals.
Pictures of Makro loading them 9 pallets of food that the Foundation DAF and Makro donated to the hostel Covadonga of Gijón by an amount of 6,000 € of which DAF donated 5,000€