ARTICLE PUBLISHED IN THE NEWSPAPER EL COMERCIO

From forced exile to feminine art
Publication date: : 29 de diciembre de 2017
---
El Comercio, of Gijón, presents the cultural events taking place in the CCAI, Centro de Cultura Antiguo Instituto during the month of December. This report mentions our exhibition  "PUSHED INTO EXILE" as the protagonist of the exhibition.

The exhibition of the foundation DAF is focused on "the Christian Arab minority, sidelined by both Israel and the Muslims"


…This photographic exhibition explores the Israeli-Palestinian conflict, where "the Christian Arab minority is the community with most exiles." And even though -the Foundation tell us- «Fatah takes into account the Christian Palestinians in their election campaigns, and in the Mayors Office of Bethlehem we find Catholics and Orthodox, but despite this, thousands of Christian Arabs leave Palestine each year.»


A reality which the foundation DAF (focused on developing solidarity projects in countries such as India, Bhutan and Nepal, as well as promoting interfaith communication, and whose most visible face is the doctor and acupuncturist Armando Menéndez from Gijón), aims to draw attention, in addition to "claim more aid for a minority marginalized by both Israel and its Muslim Arab brothers"…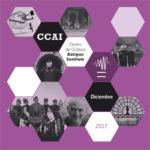 Ponemos a tu disposición el "boletín de actividades del CCAI" del mes de diciembre, para que no te pierdas nuestra exposición ni ningún acto cultural!