ARTICLE PUBLISHED IN THE NEWSPAPER LA NUEVA ESPAÑA

ARMANDO MENÉNDEZ, writes a Buddhist fable against war, "THE LITTLE SOLDIER LU"
Publication date: October 3, 2016

---
Through this interview, published in the Spanish newspaper LA NUEVA ESPAÑA (printed edition), Armando Menéndez unveils his latest publication "THE LITTLE SOLDIER LU", A Buddhist fable against war. It also reveals the origin and purpose of this fable, and invites us to reflect on moral educational and cultural issues.
Specially addressed to the younger ones, he highlights that today "We live in a violent culture; violent video games, violence on television, sport and even in the stands", and we should give this matter some serious thought and try to encourage values of peace and harmony, explaining to our youngsters that with a minimal gesture, they themselves can help stop "wars" in their own environment, such as stunning or bullying behaviour at school, racism, teasing the more vulnerable…
Armando tells us through The little soldier Lu, the leading character of his Buddhist fable, that the main war we have to fight is with ourselves, raising awareness for dialogue and tolerance with others.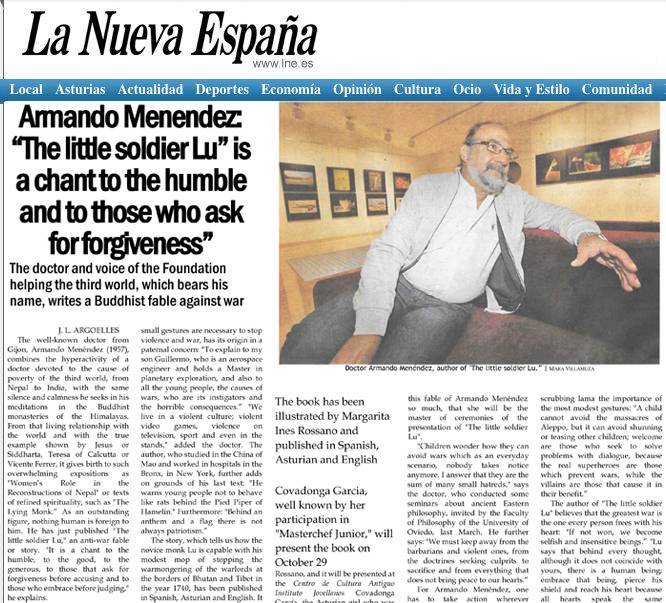 The presentation of this book will take place on October 29 in the Centro Cultura Antiguo Instituto de Gijón, and will have a very special hostess, our dear Asturian friend mastechef junior Covadonga García!, 
Reading this fable, Covadonga has understood the importance of the moral the Foundation Daf wants to share through this beautiful story, and wishes to convey her support to the Foundation, by inviting all children to meet "THE LITTLE SOLDIER LU".
Soon you will have more news about this event, surely you will not miss it!
If you are interested in collaborating with DAF by purchasing the fable of The little Soldier Lu, you will find it in the major bookstores in Asturias, Santander and León. You can also buy it online, on major Internet portals.
For more information visit our section "EDITORIAL"